10 May

www.aal.co.ukClothes For Wheelchair Users are not readily available. However, we are happy to promote and sell Bombini's fantastic product range of clothes for wheelchair users. These are designed and manufacturer in the UK by wheelchair users Gary & Matt. Bombini is creating a brand that's fashionable as well as practical. The current sporty range is developing all the time. The unique mindset is to listen to customer feedback, rather than assume what customer's require...
What's currently available?
Jogging bottoms
Hoodies
T-shirts
Vests
Jeans
Jogging Bottoms for wheelchair Users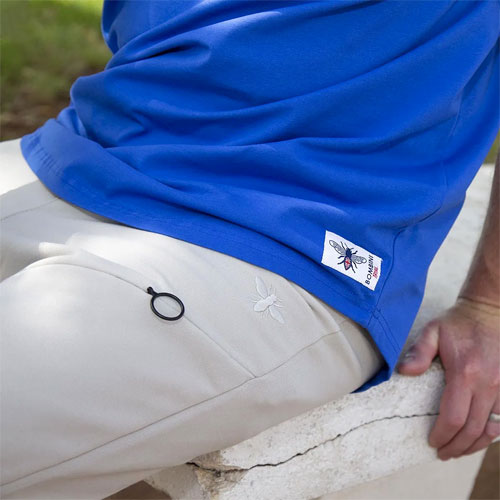 As a wheelchair user, there is nothing more frustrating than buying clothes for wheelchair users that are not comfortable or practical. A major issue for any wheelchair user who's got very little feeling or movement due to their disability is the potential for pressure sores or ulcers.
The clothing has to be preferably seamless and no metal zips, pop buttons or thick pockets. Especially, at the rear as the potential of pressure sores are greater. Pockets on the side are not easy as these will simply get caught in the wheels of the wheelchair, causing damage and getting dirty.
The majority of sport joggers have a low cut design which means when you bend over, you'll see the non-preferable "builders bum syndrome" . When wearing these types of joggers, wheelchair users can find themselves constantly having to pull them up, or having to ask assistance to get more comfortable. It can be embarrassing when transferring out the car in public places too, as it doesn't leave much to the imagination!
Bombini have designed a jogger that has some smart features:
Pockets that fall to the inside of the thigh
High back to give better dignity and keep ya bum warm
Easy leg zips with loops to assist people to access their leg bag when its needing to be drained
The joggers are easy on the eye, comfortable, practical and very cost effective.
Hoodies for wheelchair Users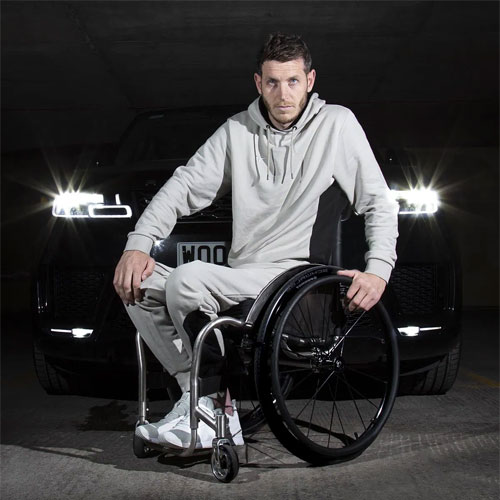 OK, you may think, well it's a hoodie? What's so special?. Well apart from the material being super soft and very comfortable, it's very light and warm. The material is 70% cotton and 30% polyester and stretchy. As a wheelchair user dresses it's important the material gives as there is a lot of pulling and yanking to get it on for some people.
Bombini have added a cool and subtle feature:
Dark inserts under the arms, so you can wear light colour tops and not worry about getting the sides dirty from the wheels
Great fit, not baggy and not too tight giving you comfort
These are very affordable and long lasting, as well as stylish.
T-shirts for wheelchair Users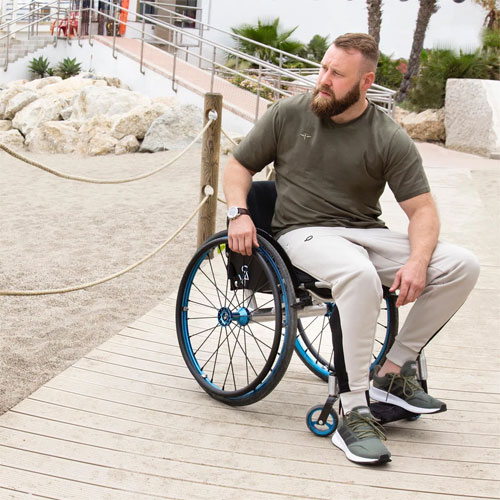 Bombini have made a simple t-shirt subtly different and rather stylish. They are made from quality materials. the construct is 95% cotton 5% elastan giving a softer feel to the T-shirt.
They come in V-neck with the following features:
Extra lengthy back to keep you covered and a shorter front with side splits for a more comfortable fit
T-shirt is finished with tonned Bombini logo
Vests for wheelchair Users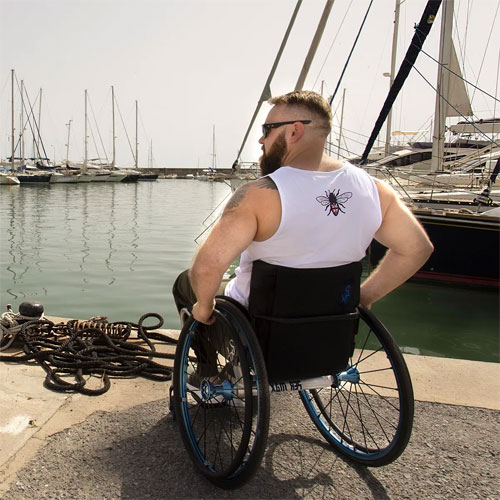 Bombini again have made a vest look rather stylish. They are made from quality materials. the construct is 95% cotton 5% elastan giving a softer feel to the T-shirt.
What's the feature this time?:
Extra lengthy back to keep you covered
Vest is finished with a cool Bombini logo on the back!
Jeans for wheelchair Users
Bombini are at looking to launch the jeans in July latest! This are going to be so cool! They are designing with the following features:
Softer, durable material
Higher waistband giving the person more dignity
NO! Elastic bottoms - hurray!!!
As soon as they get ready to launch, you'll be the first to know! So you better sign up for our newsletter!
Our managing director, who's a full-time wheelchair says...
"This is so exciting to support a young up and coming enterprise. With all the negative news and challenging lockdowns we are experiencing, here's a couple of lads getting on with it! Where's the disability here, I can't wait to promote their new range, soon to be launched".
Stephen Pritchard
Managing Director, AAL LTD.