Dyna-Form Mercury Advance Pressure Mattress
The Mercury Advance is ergonomically designed to prevent and treat pressure ulcers. The Dyna-Form mattress offers effective dual therapy within a single surface by using clinically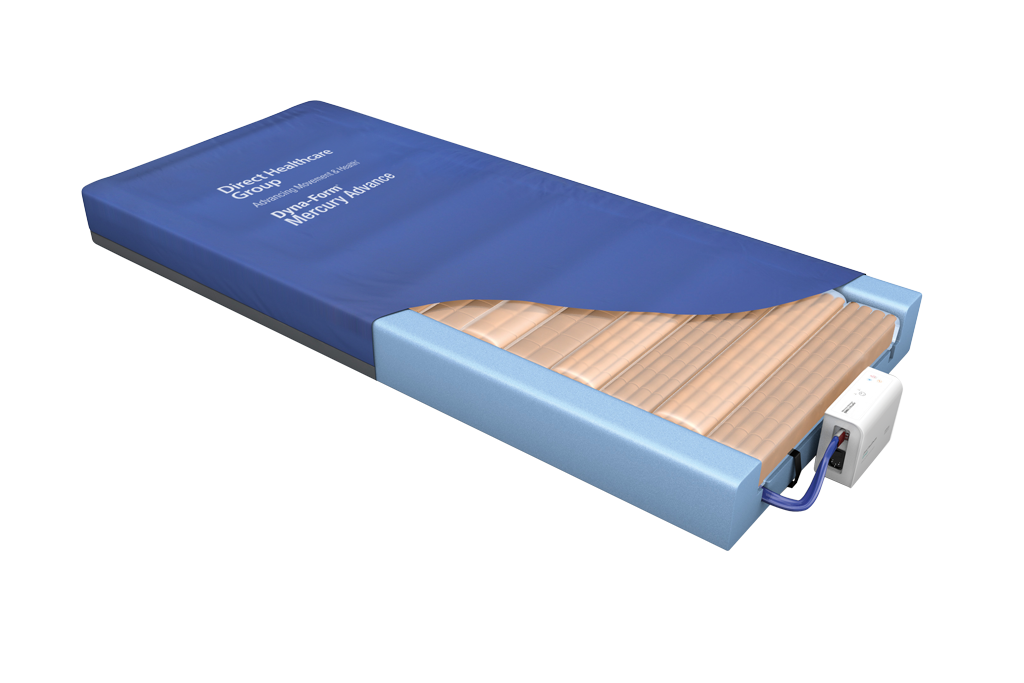 proven technology, previously only in separate hybrid mattresses.
This Pressure Relief Mattresses is risk category; Very High. It can however be used in categories below this.
The Pressure Mattresses has 4 zones with different types of innovative technology, making it an excellent solution for preventing and treating the pressure ulcers.
Zone 1 is fixed foam only and this is located at the top of the mattresses for your head, giving you extra comfort. Zone 2 has three small castellated foam with air cells which supports your upper back and shoulders. Zone 3 has seven large castellated foam and air cells for trunk, thigh and leg support. Finally in zone 4 there is a unique air pressure reducing pressure on the heels giving you a more effective pressure care on this particular vulnerable area.
The outer vapour permeable cover is a multi way stretch fabric which incorporates high frequency welded seems and deep flap zip protection.
The alternating pressure relief system is powered by an excellent electric pump, which depending on clinical judgement can alternate the pressure on either LO or HI pressure ensuring effective redistribution. The Pump includes a easy deflate CPR tag for extra safety.
The mattress can be used in both non-powered and powered mode. When using in non-powered more, advanced air displacement technology will continuously optimise pressure redistribution in response to the service users body weight and movement. Whilst in powered mode it will deliver a pressure relief via connected alternating foam and air cells.
The Dyna-Form Mercury Advance Pressure Mattress has an excellent safe working load of 245 kg.
This product has a 2-year warranty
Specifications
Risk category: Very high risk
Weight limit: 40 st/ 254 kg capacity
Warranty: 2 years
Dimensions: L 198 cm x W 88 cm x H 15 cm
Product weight: 13.3 kg mattress/ 1.7 kg Power Unit
Cycle time: 10 minutes
Mode of operation: Electronic
Voltage: 220 - 240 V / 50 HZ
Power consumption: 10 W
Colour: Blue
Infection control: 1,000 ppm diluted or 0.1% (or used in conjunction with local infection control guidelines)
Option: PU covered umbilical
Features
- Combined foam and dynamic mattress technology
- Fixed head section
- Clinically proven foam mattress
- Easy use power unit
- Static mode
- Pressure selection mode
- 2 in 1 mattress capability
- Securing straps (if needed)
- LED alert
- CPR connector valve (easy deflate)