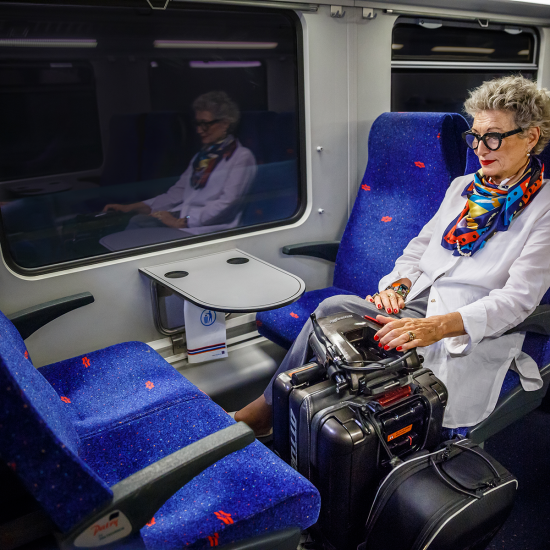 Stock:

In Stock

Model:

ATTOSPORT

SKU:

ATTOSPORT

RRP:

£3,100.00
ATTO Sport Folding Electric Scooter
ATTO Sport Folding Electric Scooter
Use ATTO250 at checkout for £250.00 off!
The brand new ATTO Sport is a high-performance travel electric scooter. Foldable into the size of a small suitcase the ATTO Sport is the perfect companion for travelling both on a plane and for use on a cruise. The newest addition to the MovingLife product range, the ATTO Sport has all the safety features and conveniences to the standard ATTO electric scooter whilst providing higher performance. The ATTO Sport electric scooter can be folded into a trolley/suitcase for easy transportation and can also be split into two parts for even easier storage.
With flight approved batteries and charger, the ATTO Sport is the perfect companion when it comes to travelling. The ATTO Sport compared to the previous model provides the user with more range per charge (30 km), more luxury with its excellent and stylish design, more control, more suspension, more braking control and more visibility making it an overall outstanding electric scooter. You can get Armrests to go with the ATTO Sport at an additional cost.
Please note currently the battery range is 20KM. This is until the UK approve the 30KM range battery.
Below is the comparison between the old atto and the new atto sport.
Please see attached the brochure for more features, specifications and information.
Features:
Sleek, sports car-like design and details
Easy to fold into trolley and easy to unfold
Splits into 2 lightweight segments for easy carrying, compact storage
Trolley mode makes it convenient to walk with and steer when folded
Ergonomic design with ample legroom and armrests
Lithium flight-approved battery and charger
Rich information LCD display
Embedded headlights
Anti-theft wireless key fob
Shock-absorbing airless NPT tires
Soft, PU leather trimmings, backrest and seat upholstery
Rear light reflector
Cruise control option for longer rides
Adjustable seat with 3 different heights
Automatic slowdown on steeper slopes
Easily adjust height and angle of tiller
10 km/h (6.2 mph) maximum travel speed
3 Wheels enable 52-degree radius
Onboard USB charging port
Warning sound alert (horn)
Automatic reverse travel alert sound
FDA, CE, EN 12184, ISO 7176 certified
ERB (Electric Release Brake) for safer braking
Front disk brake for extra safety
Free wheel (neutral mode) enables wheeling when battery is empty
Optional Armrests at extra cost
Specifications:
Maximum Speed - 10 Km/h (6.2 mp/h)
Battery - 48V Lithium-Ion
Range - Up to 18.6 miles
Suitable for ramps up to 6 degrees

Maximum User Weight - 120 kg
Colour - Dark Grey
Seat and Backrest Material - PU Leather
Dimensions
Split Mode:
Width - 16.5" (41.9 cm)
Height - 28" (71 cm)
Length - 15.3" (38.9 cm
Drive Mode:
Width - 22" (56 cm)
Height - 35" (89 cm)
Length - 22" (56 cm)
Weights
Split Mode:
Front half 27.5 lbs. (12.5 kg)
Rear half 38.5 lbs. (17.5 kg)
Drive Mode:
Assembled 64 lbs. (29 kg) without battery
Battery 4.1 lbs. (1.83 kg )

The Atto Sport is a game changer for many people. This system is simple to assemble, easy to use, reliable and stylish. Whether you're going on a cruise, trip to the shops, a day out to the city or meeting family and friends, the Atto Sport is there to support you and you'll look good at the same time.
Tags:
Atto
,
Atto sport
,
movinglife
,
moving life
,
electric scooter
,
scooter for cruise
,
foldable scooter
,
scooter for elderley
,
fast electric scooter
,
trave scooter
,
travel electric scooter