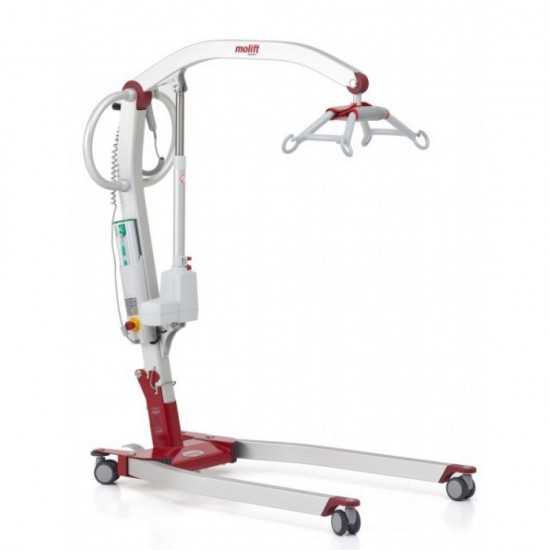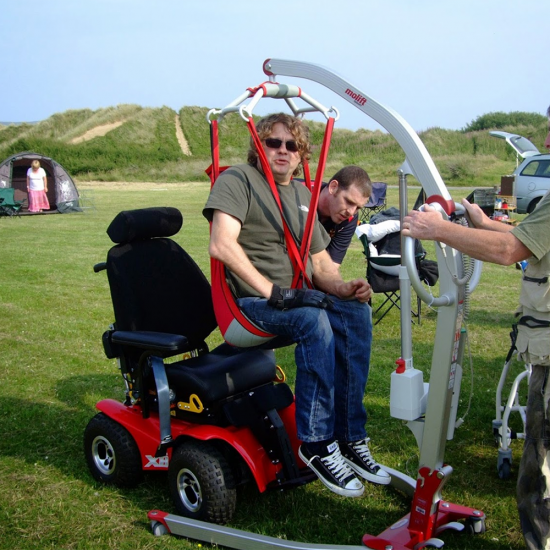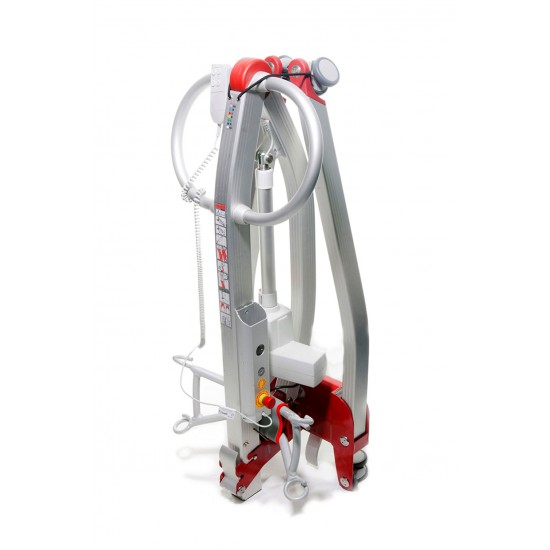 Lowest Price Guaranteed 5 Year Warranty



Stock:

In Stock

Model:

10002

Dimensions:

0.00cm x 22.00cm x 17.00cm

SKU:

10002

RRP:

£2,850.00

MPN:

10002

Molift
Molift Smart 150 Hoist
* Did you know we offer SAME DAY delivery to certain parts of the UK? Call us now for a free quote!*
The Molift Smart 150 hoist is a lift for supporting care workers, support staff, family and friends who care for dependant service users whom have physical disabilities.
However, this particular lift gives the service user so much more:
The ability to stay away from home at night, knowing the Molift Smart 150 is foldable and transportable

Light & compact, enabling it to fit in small cars with ease

Travel abroad as it has a travel case available which protects the hoist from heavy handed luggage handlers

Take it camping

Assists people to get on machinery. Eg Quad bikes or scooters

The travel bag enables entering hotels discreetly and with ease as you wheel the hoist in! Furthermore, the bag has storage pockets for the battery & chargers. Saving storage space in your luggage

Fast charging battery (15 mins. 3 lifts, 3 hrs to fully charge battery)
Specification
Battery: NIMH 14.4 V - 2.2 Ah

Battery Charge Time: 3 Hours

Leg Height: 110 mm (4.4")

Length: 1200 mm (47.2")

Hoisting Interval: 1410 mm (5.5")

Service Software: Included

Material: Aluminium, Steel

Total Weight: 26 kg (57 lbs)

Dimensions Folded: 1160 x 465 x 360 mm (45.32" x 18.7" x 14")

Width Open Legs Inner: 925 mm (36.4")

Hoisting Speed: 60 mm/sec (2.4"/sec)

Hoisting Height: 270-1665 mm (10.6"-66.1")

Total Weight excl. battery 24Kg (53 lbs)

Battery weight 1Kg (2.2 lbs)

Weight when separated:

Part 1: Base 10 kg (22 lbs)

Part 2: Mast 14 kg (30 lbs)
Rated Performance: 40 Hoists at: 75 kg and 50 cm (165 lbs and 19.5")
Features
4 Point Suspension Bar for comfortable lifting

Foldable

Used for home care and travelling

No tools required for folding the hoist

Travel case and bag available as an option

Fast charging

Long life battery

Batteries can be taken on an aircraft

Transportable by Land, Sea and Air
What's included
Battery and Charger

5 year warranty on frame and actuator

1 year warranty on everything else

User Manual

Certificate of EU Compliance
Accessories
Molift Smart 150 Case

The Molift Smart 150 case is a significant size. The purpose of the case is to protect the Molift Smart 150 when being transited out the sight of the owner. When traveling by aircraft or by sea, the baggage handlers can be rather heavy handed and they have a tendency to damage the hoist, when the case is not used.
Owners have traveled without a case and become surprised when there are castors smashed, handsets damaged or metal parts bent! However, you can only imagine how these unit get handled when out of sight. Furthermore, when claiming on insurance, this can be difficult as they will ask, how was the hoist packaged and protected?
The case has been designed to ensure your hoist remains safe on arrival. You need this hoist on the other side, the product isn't a nice to have, it's required to protect you and the service user you're lifting. Overall, it's a small cost to ensure your operational on arrival at your holiday destination.


Molift Smart 150 bag
The Molift Smart 150 bag however, has been designed to enable the transporting of the Molift Smart 150 easy and discreet.
This lightweight bag has been beautifully designed to accommodate the easy packing of the hoist, storage for the battery and charger and smooth easy rolling wheels. Many of our customers like the fact, when wheeling the hoist into a hotel or camp site, it's discreet! Minimises questions and gives the service user more dignity. The bag also rolls up to a very small size, enabling the Molift Smart soft bag to be rolled up and stored away into a cupboard, out of sight. The bag is not recommended for traveling via air or sea, for reasons explained in previous section.
Molift Smart 150 Battery
The Molift Smart 150 battery is another unique selling point for the lightweight portable Molift Smart 150.
It's the lightest! Weighing 1Kg (2.2 lbs)

it's the fastest! Full charge within 3 hrs, lifts within 15 mins

long lasting, this battery can remain active for over 5 days+

it's flight ready! No issues with lead acid, as its a dry cell

nickel metal hydride battery
Molift Smart 150 Charger
The Molift Smart 150 battery charger is lightweight and can charge all three variant batteries. There are Black top, Green top and Grey top batteries. These NiMH 14.4V – 2.2ah are compatible with the grey plastic battery charger.
***The Metal Molift Smart charger WARNING Please be aware that the metal charger is compatible with the Black top battery! The legacy metal charger is NOT compatible with the Green & Grey top batteries. Please upgrade your charger should you need to replace the black top battery.
Weigh scales suitable for use with the Molift Smart 150
Firstly, this is not a Molift product. The Seca weigh scale has been tested by AAL LTD. trading as Enable Living. The owner, Stephen Pritchard who is a T7 Paraplegic has tested and uses this scale to manage his weight.
The Seca scale fits on the Molift spreader bar via two carabiners, they are attached diagonally, thus giving it better stability when lifting.
Disabled people don't have many options when it comes to monitoring their weight. There was a time when hospitals or clinics would weigh service users but in recent times, this is not always the case. Nursing and care staff neither have the time or the equipment to undertake a simple but necessary task.
People with disabilities can gain weight quickly if not managed and losing it, can be very challenging as active exercise can be difficult, if not impossible. Many people lose their independence due to weight gain.
When service users lose their independence, then it becomes costly to the person, as they are dependant on third parties. They lose the lifestyle they have been accustom and it gets expensive.
Care and support staff are needed to put this person in/out of bed, toileting and this can lead to depression. Depression will then lead to the need in accessing mental health services, all these things can be prevented.
The Seca weighing scale supports the service user, support staff and extends a better lifestyle. It's a small cost for a better life.
Servicing & Maintenance
The Molift Smart 150 has a smart monitor that records and manages the hoist. This is managed via the Molift Service tool
Molift Service Tool
The software connects with the hoist via USB port, enabling the certified engineer to correctly service, diagnose and maintain the Molift Smart 150 hoist.
The Molift Service Tool monitors the number of lifts the hoist undertakes and once it reaches the prescribed number of lifts, The Molift Smart gives a warning signal to advise the operators a service is required.
The Molift Service Tool is to be used only by a Molift certified technician. That person is then able to connect to the hoist and perform service operations and trouble-shooting. The software allows reading, checking and adjusting key parameters of the hoist. Engineers are able to read and print the service history, record and analyse hoist usage.
The Molift Service Tool 4 can also be used to retrieve data about hoist usage and lifting patterns. This can be a helpful tool for employers to improve operations, patient groups and their needs.
Servicing
The Molift Smart is potentially the most advanced folding mobile hoist. The hoist needs to be serviced annually if it's used once a year.
Ih however, the service user has a care plan and support staff are using the hoist on a daily basis, you'll need to set out a LOLER (Lifting Operation & Lifting Equipment Regulation) plan. The LOLER is as follows:
Annual Service and inspection - supplied a LOLER certification on passing inspection

6 monthly inspection post service to ensure lift is safe for operational use The inspection certificate is required for any insurance policy, to demonstrate the lift is safe and fit for purpose. Thus, protecting the service users and their care workers.