30 Apr

Hoist weighing scales come in a variety of fitments. We have a large selection to choose from as every care environment operates differently. Depending on size, availability of funds and types of service users.
The following explains the types of hoist weighing scales available including specialist portable, walk-on and wheelchair weighing scales:
Portable hoist weighing scale
Mobile hoist weighing scales
Ceiling hoist weighing scales
Bariatric weighing scales
Walk on weighing scales
Wheelchair roll on weighing scales
Portable Hoist Weighing Scales
There are a number of budget hoists on the market which do not come with hoist weighing scales and have no accessories from manufacturers to provide one.
The seca HW941 is an excellent portable weighing scale which is CLASS II certification which means it's suitable for care environments including NHS, care centres, residential and domestic homes. The portable hoist weighing scale is very simple to fit to the spreader of mobile, ceiling and other types of patient hoists.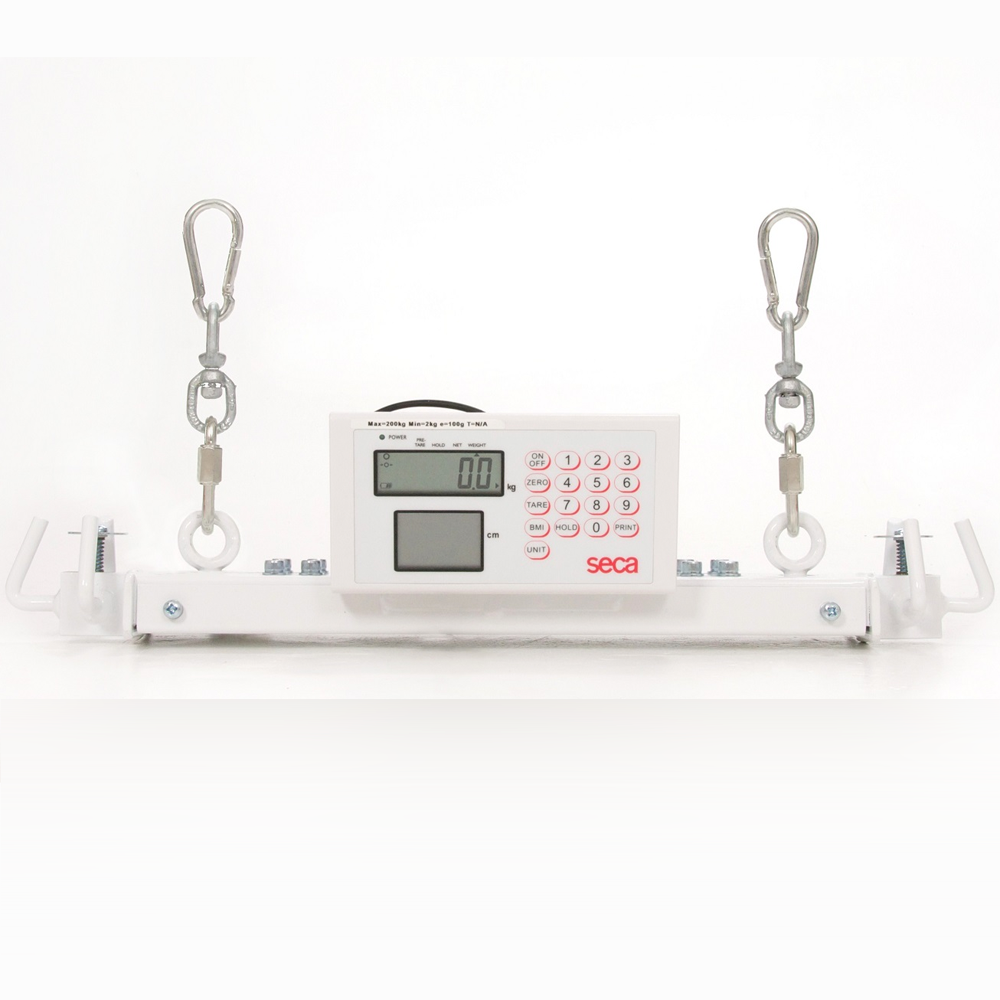 How do you fit the HW941 to the hoist?
The HW941 portable hoist weighing scale has two caribeana hooks on either side. There are two ways in which you fit the scale. Depends on what type of spreader bar is fitted:
4 point spreader bar: Connect the portable hoist weighing scale diagonally, as this will ensure you get a stable lift and the spreader bar won't tilt over and lesson the lift distance.
2 point spreader bar: Straightforward, you simply clip the caribeana's to either side on the lifting hooks.
NB, this lift will NOT work on hoists that uses clip connections for slings.
Mobile Hoist Weighing Scales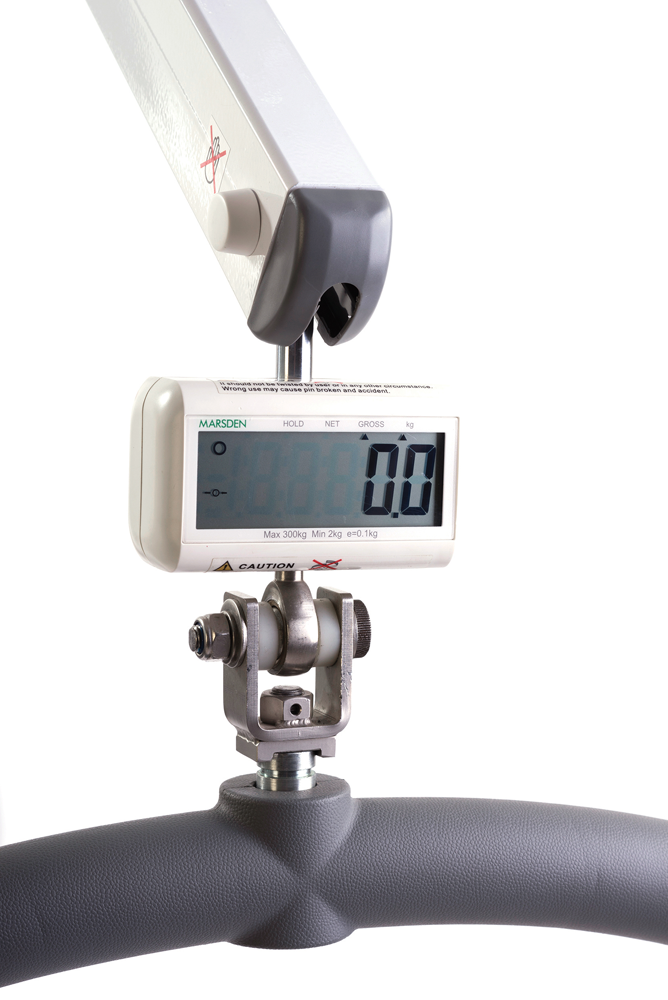 Mobile hoists don't come with weighing scales as standard. This is usually due to the fact in recent years, weighing service users hasn't been part of the standard operation of many care homes and care providers. Due to their tight overheads, they tend lean towards budget hoists to streamline their outgoings.
When ordering mobile hoist weighing scales, you'll find them to be more expensive than the actual hoist itself. This is due to the stringent regulations that are need to comply with EU regulations. However, seca have a very affordable solution which clips on as per the Portable hoist weighing scale HW941.
Ceiling Hoist Weighing Scales
There are not a great deal of hoist weighing scales for ceiling track hoists. joerns do have a Class III DIGITAL weigh scale for the oxford Elara ceiling hoist. The Oxford Classic Digital Weigh-scale is a technologically advanced, microprocessor controlled, digital weighing device. It features a large, easy to read, Liquid Crystal Display (LCD) that shows the patient's weight. The scale is Class III certified, which means it will provide a highly accurate measurement of weight each and every time - critically important for on-going patient monitoring and precise medication delivery.
Again, if you're looking for a budget solution, the HW941 works well.
Bariatric Hoist Weighing Scales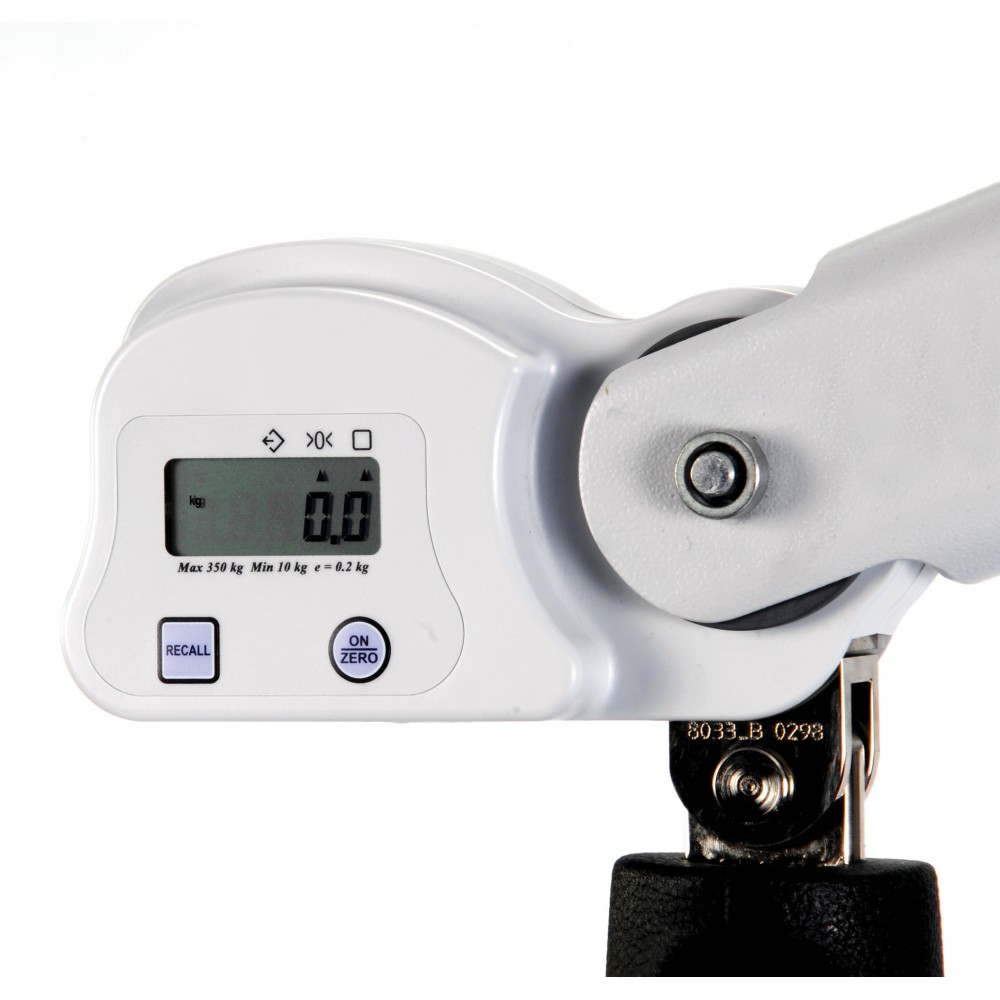 We have a great range of bariatric hoisting weighing scales. Ranging from 385kg to a amazing 255kg.
Oxford Calibre SWL 385Kg
Molift 255 Partner SWL 255Kg
Oxford Calibre Bariatric hoist with weighing scales
The Oxford Calibre bariatric hoist is the big hitter in this market. With a lifting capacity of 385Kg | 60 stone |848 lbs. The scales are one of the largest in the UK. Furthermore, the Oxford Calibre comes with a 5 year warranty. The hoist also has a smart monitor which reports the following:
Number of patient lift cycles
Total work done by actuator
Number of lift overloads (attempted lifts above the safe working load)
Number of days since last service interval
Molift 255 Partner with weighing scales
The Molift 255 Partner has a good lifting capacity of 255Kg | 40 stone | 562 lbs. We supply and maintains these systems for the West Midlands Ambulance service. These hoists also come with a smart monitor solution. Comes with a 12 month warranty.
Furthermore, to service these systems you need to be an accredited engineer. The engineer will need to be certified as they need to reset the service light with the manufacturers software.
Hoist weighing scales are available for most of our applications. if you need assistance, please don't hesitate to contact us on 01772 81455.
Measuring a service users weight is important to understand a number of key risk assessments:
Knowing people are within the Safe Working Loads (SWL) of equipment being used- if you don't know the service users weight, how can you be sure you're using the right aids to support this person safely?
Goals: physically challenged people need to monitor their weight. The easiest way to lose any form of independence is to gain weight. As a persons weight slowly increases, they become lethargic, this learns to lack of energy and motivation. Once this process turns into a habit, the weight increases and independence slowly disappears which can lead to chronic depression.
Dieting: The greatest motivator to losing weight is seeing it's coming off! Weekly weight checking helps the service user to understand how they are doing, giving the support staff the opportunity to praise their patients or family member as much praise as possible. This is yet another benefit using hoist weighing scales.